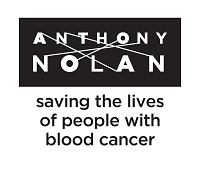 Anthony Nolan
Select the event you would like to run in
Run For Anthony Nolan
Anthony Events
0303 303 3000
Do something incredible and join the team who are curing blood cancer, mile by mile, at the Edinburgh Marathon Festival.
Sign up with #TeamAN and you'll be treated to our VIP package, including:
💚 The slickest personalised running vest
Everyone knows the black and green team mean business. And with your personalised #TeamAN vest on, you'll look the business too.
💚 Access to our Challenge Hub for half marathon training plans
Ensure you're one step ahead of the competition with training tips that'll make the push to the finish line that little bit easier.
💚 All-important injury advice
Stay in tip-top shape thanks to our specialist injury prevention advice.
💚 Fundraising materials that will turn pennies into pounds
With a fundraising pack crammed full of ideas and free materials to make raising money that little bit easier, you'll be smashing your target in no time!
Visit
our website
for more information.
2023 CHARITY PLACE FEES & TARGET SPONSORSHIP
Marathon: Registration £25. Target sponsorship of £600


EMF Half Marathon: Registration £20. Target sponsorship of £300


10k: Registration £15. Target sponsorship of £175


5k: Registration £10.

Target sponsorship

of £100


ALREADY GOT A PLACE?
If you've been lucky enough to secure your own place in the Edinburgh Marathon Festival, we'd love to welcome you to #TeamAN.
There is no minimum sponsorship if you have your own place, but aim high and you'll be amazed at what you can achieve. All you have to do is link your entry to Anthony Nolan and we'll be in touch to welcome you and arrange your free black and green running vest.